ABOUT US
In 1970, Mr. Guillermo P. Rodriguez founded Caribe Food Corp. It was the weather and Latin sound of Miami that brought him here from his native Cuba. However, the opportunity to introduce plantains and other tropical products into the United States is what kept him here. Mr. Rodriguez quickly built a reputation for "Service, Quality, and Competitive Prices" and Caribe Food Corp. began to grow.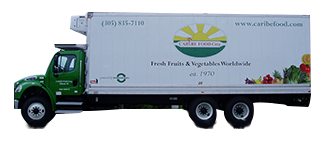 In the early 1980's Mr. Rodriguez' son, Guillermo (Bill) Rodriguez, joined the Caribe team. Having recently graduated with an Engineering degree from the University of Florida with extensive knowledge of computers and briefly working with on ground based computer systems for the space shuttle, Bill developed and implemented the software system Caribe operates with today. This system streamlines our processes, ensures accuracy and allows us to view our inventory live at all times, thus enabling our sales team to offer the best service possible at any time. Throughout the years Bill has developed close relationships with many growers and shippers allowing Caribe to offer the best produce available always at competitive prices. Bill believes in "thinking big, while keeping it small."
In 2007 Bill's daughter, Veronica Rodriguez, joined the Caribe team. Veronica graduated from Florida International University with a bachelor's in Business majoring in Marketing and International Business. She went on to complete a double master from the University of Central Florida's DeVos Sport Business Management Program. Prior to joining the family business, Veronica has worked in the sports industry as well as the transportation industry. With her experience and forward thinking Veronica has brought a new light into Caribe. Her focus has been on becoming more environmentally friendly. "Produce comes from the Earth and it is OUR responsibility to protect and take care of her!"
Today Caribe Food Corp. distributes fresh fruits and vegetables to a wide range of customers around the world. We carry produce from the finest shippers locally and globally. We are very grateful for the loyal support given to us by our customers and our goal is to continue to create such support through a long-term commitment to service.